Amber Valletta (born February 9, 1974 in Phoenix, Arizona, USA) is an American supermodel and actress.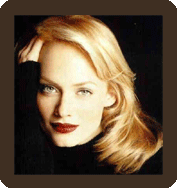 This gorgeous super model was born in phoenix Arizona, on 1974 February 9. Her family shifted from Arizona to Oklahoma and she continued her education in Tulsa, Oklahoma. Her mother noticed her good looks and enrolled her daughter in modeling school when Valletta was 15. Her modeling career began after her first shoot by the Italian vogue magazine.
Owing to her photogenic looks, Valletta proved to be the most sought after model. This pretty blond had marked her stand in modeling as well as movies. She has modeled for many ad campaigns and for super popular designers like Calvin Klein, Versace, Prada, Chanel and Gucci. Mtv organized a fashion show called the "house of style", and for this Valletta was chosen as the co-host.
Initially she wanted to become a sociologist, but since modeling became her career, Valletta now utilizes her social status to provide funds for charitable organizations. This green-eyed beauty was the face of Elizabeth Arden for a world wide campaign conducted on September 1996.
Valletta marked her entry in the film industry and flourished well in this field. Her hits include- What Lies Beneath, with Harrison Ford; Hitch, with Will Smith; and Raising Helen, with Kate Hudson.
In November 1995, she conducted a fashion show to provide funds for the food bank in Tulsa. She is a vegetarian and smokes very scarcely. She loves sweets and traveling.
She was married to Hervé Le Bihan in 1994 and later they divorced in 1996.