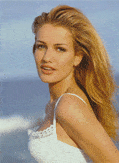 Her modeling career started wkaren mulderhen she came second in the Elite "Look of the year" contest. Soon she became popular; she worked for agencies like the New York Elite, Paris Elite and the UK- Elite premier.
She has appeared in all these magazine covers 1996: Cosmopolitan - UK August, Elle - Australia March, May, August & December, Elle - France May 27, Elle - Germany March, Elle - Hong Kong August, Elle - Italy March, Elle - Japan July, Elle - Spain February, Elle - UK February, Elle Top Model #10 & #13, L'Officiel - France April, Marie Claire - Australia November, Marie Claire - UK April, Photo - France September.
1997: Cleo - Australia August, Cosmopolitan - UK July, Elle – Australia.
Karen mulder has modeled for Victoria's Secret, Calvin Klein, Nivea, Ralph Lauren, Claude Montana, Valentino, Versace, Celine and Yves Saint Laurent. She knows six languages - English, French, German, Greek, Latin, and Dutch. She loves reading and singing.
Most people like her for her simple and sexy dressing. She loves wearing her favorite black suit. She married Rene bosne but they were divorced later. She is now engaged to jean Yves. She has her own CD ROM with a lot of beauty and fitness and make-up tips. Karen also has a toy doll of herself. Now she is retired from modeling.