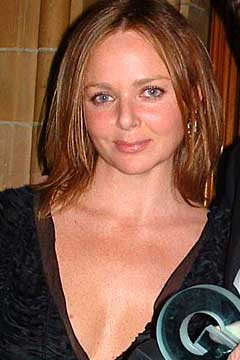 McCartney learned her trade at St Martins College of Art & Design. She was almost instantly successful, with her graduation collection being sported at the graduation show by supermodels Kate Moss and Naomi Campbell. The show made front-page news, and the entire collection was sold to Tokio, a London boutique.
In 1997 McCartney was appointed chief designer at Paris fashion house Chloe, following in the footsteps of Karl Lagerfeld. Her designs enjoyed considerable commercial success. In 2001 she resigned from the house in order to enter into an eponymous joint venture with the Gucci Group. In 2003 she expanded her brand into perfume.
Stella is the daughter of former Beatle Paul McCartney and vegetarian food entrepreneur Linda McCartney. Some in the press have suggested that McCartney's meteoric rise through the fashion industry was partly helped by her having famous parents. In particular, it has been suggested that Vendome, owners of the Chloe house, appointed her as much for the wave of publicity the appointment would generate as her talent. In recent times, however, most commentators have said that she is entirely capable. Indeed, Vogue magazine wrote that "her first collection for the house Chloe, shown in Paris in October 1997, quickly dispelled any doubts about her talent."
She is now married to Alistair Willis and on February 25, 2005 she gave birth to her first son Miller!