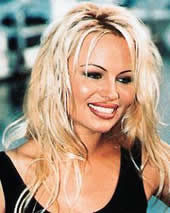 Anderson was born in 1967 in Ladysmith, British Columbia, Canada. As the first baby born on Canada's pamela andersonCentennial Day, the newborn Anderson won fame as the nation's "Centennial Baby".
She was subsequently "discovered" in 1989 when she was wearing a Labatt's beer t-shirt at a B.C. Lions football game. She was hired by Labatt's to promote their product, and soon after, she appeared in Playboy magazine.
Anderson's first major television role was on the United States hit television sitcom Home Improvement (1991-1993). But her rise to stardom came primarily from her role as C J Parker (1992-1997) on Baywatch. In 1996, she appeared in a feature film, Barb Wire, which failed to achieve commercial success; and in 1998 she appeared in her own television series, V.I.P., which ran for four seasons. As of April 13, 2005, Anderson starred on a new FOX TV series, 'Stacked' as Skylar Dayton..
In addition to her fame from modelling and acting, Anderson has gotten a great deal of press attention for her flamboyant personal life. She married rock star Tommy Lee of the band Mötley Crüe after knowing him for only 96 hours. Anderson filed for divorce twice and reconciled twice, before finally breaking her relationship with Lee. During the period of her marriage, she was known professionally as Pamela Anderson Lee. Since her divorce, she has become engaged to model Marcus Schenkenberg, broken up with him, and became engaged to rock musician Kid Rock. She is now dating actor Stephen Dorff. Anderson allegedly has had affairs with famous men including Scott Baio, Dean Cain, Sylvester Stallone, surfer Kelly Slater, Ben Affleck, Fred Durst, "Baywatch" co-star David Charvet, Bret Michaels, and reality TV star Eric Nies.