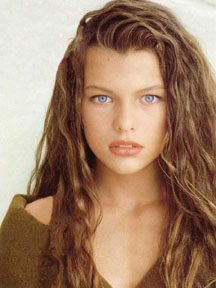 Milla's family is Montenegrin in origin, their estate being at Metohija in Zlopek near Pec. Her great-grandfather Bogic Camic Jovovic was flag-bearer of the Vasojevici tribe and officer of the guard of the King Nicholas I of Montenegro; his wife's name was also Militza. Her grandfather Bogdan Jovovic was commander of the Pristina military area and later led finances in military areas of Skoplje and Sarajevo where he uncovered massive gold embezzlement; refusing to convict his friend for that, he was punished. Later, the communist government imprisoned him on Goli Otok. When he feared that he could be arrested again, he escaped to Albania and later came to the Soviet Union, in Kiev. Bogic, Milla's father, later joined him in Kiev where he and his sister graduated in medicine.
Milla Jovovich in the first Resident Evil film.The Jovovics later moved to London and in 1981, when Milla was five years old, to Sacramento, California; just seven months later they settled in Los Angeles, California. She has done extensive modeling since she was eleven years old. She speaks Serbian, Russian, French and English fluently.
She became a film actress in the late 1980s as a teenager and gained popularity through her appearance in Return to the Blue Lagoon (1991) which led to inevitable comparisons between her and another child model-turned-actress, Brooke Shields (who had starred in the original The Blue Lagoon 11 years earlier). Most of her early appearances were in supporting or cameo roles, but by the late 1990s she was receiving top billing and entered the world of action heroes with her performances in two films based upon the video game series, Resident Evil.