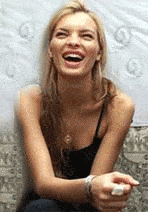 Esther had no idea of choosing modeling as her career, until she was persuaded by her mother to join esther canadasthis field. So she started modeling while she was in school. She won a local competition for a teen magazine, after which she started working with the Take 2 Agency.
Soon she settled in Barcelona to start working on her own. Then only she realized that modeling had become her passion and she loved her job. Her natural beauty and attraction made way for her huge success in the modeling field.
She started her professional modeling in New York, where she worked for advertisement agencies like Atelier Versace, J Crew, Mossimo, Saks Fifth Avenue, and Victoria's Secret. She became popular for her DKNY advertisements.
She worked as the ramp walk model for many designer shows including Calvin Klein, D&G, DKNY, Oscar de la Renta, Richard Tyler, Todd Oldham, Giorgio Armani, Valentino, Versace, and Givenchy..
Esther's debut movie was Thomas Crown Affair. In this busy schedule, she finds time for charity work also. She married the Dutch model Mark Vanderloo in 1999. She is still praised by many people for her natural gorgeous looks