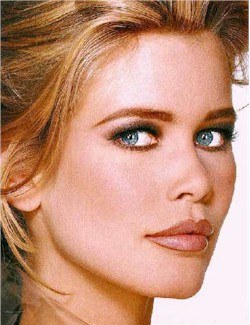 Schiffer began modelling in 1987, after being spotted in a nightclub. Weeks later she appeared in Elle claudia schiffermagazine. Within a short time she modelled for Chanel. In the early 1990s she starred in Guess jeans ads in North America. She has appeared in around ten motion pictures.
Schiffer was long engaged to, but never married, the magician David Copperfield. On May 25, 2002 she married film producer Matthew de Vere Drummond, né Matthew Vaughn, son of George Albert Harley Drummond (also known as George de Vere Drummond).
It was widely reported at the time of Claudia Schiffer's marriage that one day she could become the Countess of Oxford because her father-in-law was in line of succession to the Earldom of Oxford and Mortimer. She is disqualified on two counts: Matthew's illegitimacy would bar him from any succession and George Harley Drummond is not in line for succession as he is not descended from the male line.
Claudia and Matthew have two children, a son, Caspar Matthew De Vere Drummond, born in London on January 30, 2003 and a daughter, Clementine, born in London on November 11, 2004.