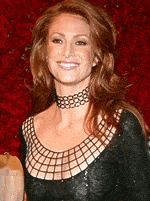 Angela Kay Everhart was born on September 7, 1969 in Akron, Ohio. She began modeling when she was 16 and moved to Europe to pursue her modeling career at 17. When she was 19, Everhart broke her back falling off a horse and spent several months recovering.
Early in her career, Everhart was advised she would never be a top model because she was a redhead.Angie Everhart However, she succeeded in her chosen career and posed for numerous publications, including Glamour, for which she was the first redheaded cover model. She appeared in several issues of the annual Sports Illustrated swimsuit edition, starting in 1995. Everhart posed semi-nude for the February 2000 issue of Playboy.
Everhart began her acting career in 1993 by appearing in the movie Last Action Hero. Other movies she has appeared in include Jade (1995), Tales from the Crypt Presents Bordello of Blood (1996), Executive Target (1997), Another 9 1/2 Weeks (1997), and Bare Witness (2001). She also appeared in the 2004 television series Celebrity Mole: Yucatan.
Everhart was engaged to Sylvester Stallone for a period in 1995 but the couple did not wed. Everhart married Ashley Hamilton on December 1, 1996, but the marriage only lasted a few months with the couple separating the following March. Everhart has also been romantically linked with Albert II of Monaco, Howard Stern, and businessman Jimmy Traboulis.