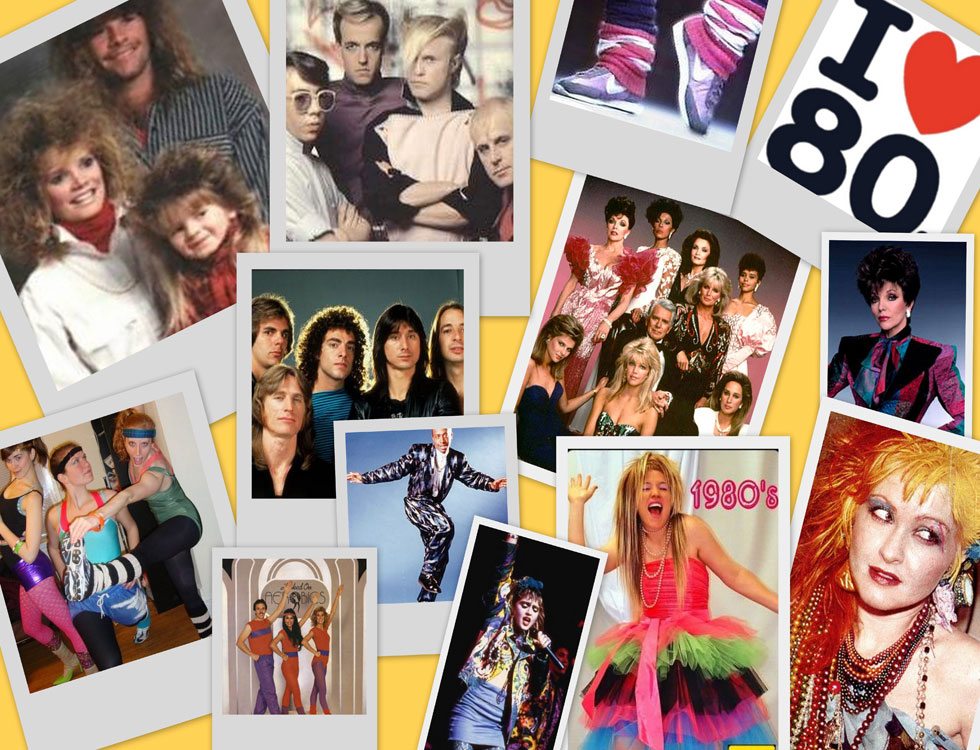 In was in the late twentieth century, international boundaries were broken in the fashion industry. Popular styles were followed all around the world. After looking into the future for all the previous decades, now once again they turned to the past for inspiration.
"Dressing for Success "was the motto of the 1980's. The phrase 'Material Girl' was made popular among all the peers, making this decade a very materialistic one. People then could not get enough of different hair products, cosmetics, and new wardrobes. Most of the lifestyles in the 1980s revolved around material possessions.
Women's Fashion:
During the 1980's fashion period the famous trends were-
Shoulder Pads- were used to make the shoulder appear broader sand bigger. This trend was due to the women being free to work and to show their rank.

Mini Skirts – every woman loved the mini. They were made in denim, leather and knit sometimes paired with leggings.

Leg Warmers – was a major fashion fad worn with minis, leggings and came in a variety of colors.

Parachute Pants – these pants were skin tight on the top and baggier on the bottom.

Stretch-Stirrup Pants – they looked triangular on a women's body, making her look big on the top and narrow on the bottom. These pants had an elastic band on the bottom which went under the feet.

Oversized Tops – big tops, big sweaters, sweatshirts and t-shirts were seen during the 1980's. They wore mostly wore these over miniskirts and leggings with were belted at the waist with large chunky belts.
Men's Fashion:
Since the 1980's were a time of materialism, men were also seen sporting various types of fashion.
Leather or Jean Jackets – every guy had to wear one of these, the jackets were more of a casual approach to their attire.

Rock Band T-shirts – t-shirts with Rock Band names and slogans popularized among men.

Sleeveless Shirts / Rolled sleeves – back then many guys were into sport and training, they wore shirts without sleeves or had their sleeves rolled up to showcase their muscles.

Leather Pants – these tight pants were highly popular back in the 1980's. These were worn with jackets to give them a rocker like feel.

Stone Washed Jeans – jeans were staple and worn throughout as casual attire.

Parachute Pants – these were seen in male clothing as well, tight on the top and baggy on the bottom.

Corduroy Pants – they were a different fabric, thicker and sturdier. They created a fashion fad during the 1980 period.
ACCESSORIES:
In the 80's people did not accessorize – they excessorized and loved it! Men wore heavy makeup and grew long hair on the other hand Women wore short hair and layers of clothing. Both sexes were looking for an identity. Some popular items were:
Huge Earrings – collected from various costume jewelry collections, these were all rage and if it did not touch your shoulder then they weren't big enough.

Fingerless Gloves – was a fashion fad which was popular in the 1980's, Madonna's look at that time was created based on this fad.

Hairstyles – 80's was a time when bigger was better – permed hair, crimped and platinum blond made a huge impact on women.

Hairstyles for men – 80's were all about creativity, Mohawks, layered, curly and fizzy made an impact on men.
Many men were seen sporting RayBan shades, piercing on faces, Hightop sneakers.