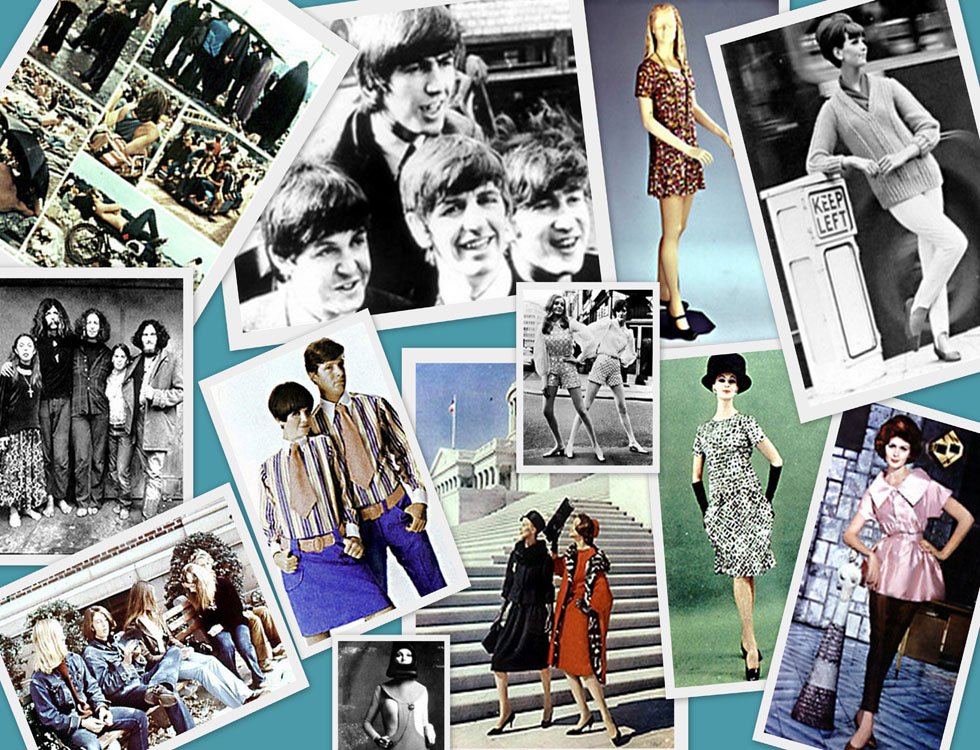 During the 1960's there was a huge wake-up call for the fashion business structure. From this decade onwards there was never a single trend following but a variety of possibilities all linked to various influences in people's lives. Fashion in the 1960's was always about the feminine look for women and funky for men. Fashion was hip, modern, elegant and usually inspired by pop art.
As we seen in the previous decade the first time in history the youth fashion was not based on the older age group. In the 1960's youngsters showed way more contrast in their clothing with the arrival of the mini-skirts and jeans.
Women's Fashion:
Here younger women opted for a girly style with their short skirts, straight dresses and boxy suits. In this decade many looks are seen –
Jackie Kennedy look: this was a coat and dress ensemble, more boxy like suit worn with a pillbox hat.

Audrey Hepburn look: was a short sleeved dress worn during the day and a flowerpot hat.

Olympic look: during the Olympics at square valley mohair sweaters and stirrup pants were fashionable.

Sophia Loren look: was an Italian who familiarized everyone with the hostess top and Capri/toreador pants.

Moon girl look: this was inspired by space exploration and moon landing consisted of straight sheath dresses and hats.
PVC Dresses and skirts were a major part of 1960's, their length started at knee high and steadily became shorter and shorter until miniskirts emerged during 1965.
Men's Fashion:
Menswear in the 1960's started with the influence of the rock band "the Beatles"; this in turn led to the hippy establishment and also to the entry of the Levi's jeans in the market.
The hippies / flower children were a more cultural group which experimented with drugs, communal living and sex. They wore love crochet coats with jeans. They were responsible for the Woodstock Rock Festival, NY, 1969.
Levi's blue jeans were a form of protest and major uniform for the youth of 1960. ?
ACCESSORIES:
Men and women had a radical makeover during the 1960's, both had shoulder length hair, wore a lot of mismatched prints and colors. Accessories were not so important during the 60's.
The make-up used was dramatic eyes, with mascara to create spiked lashes. Eye Shadow was colored or dark and lips were pale just with a tint of glittering. Jewelry was more inspired from hip, mod, and ethnic jewelry. Go-go boots were popular during this time.