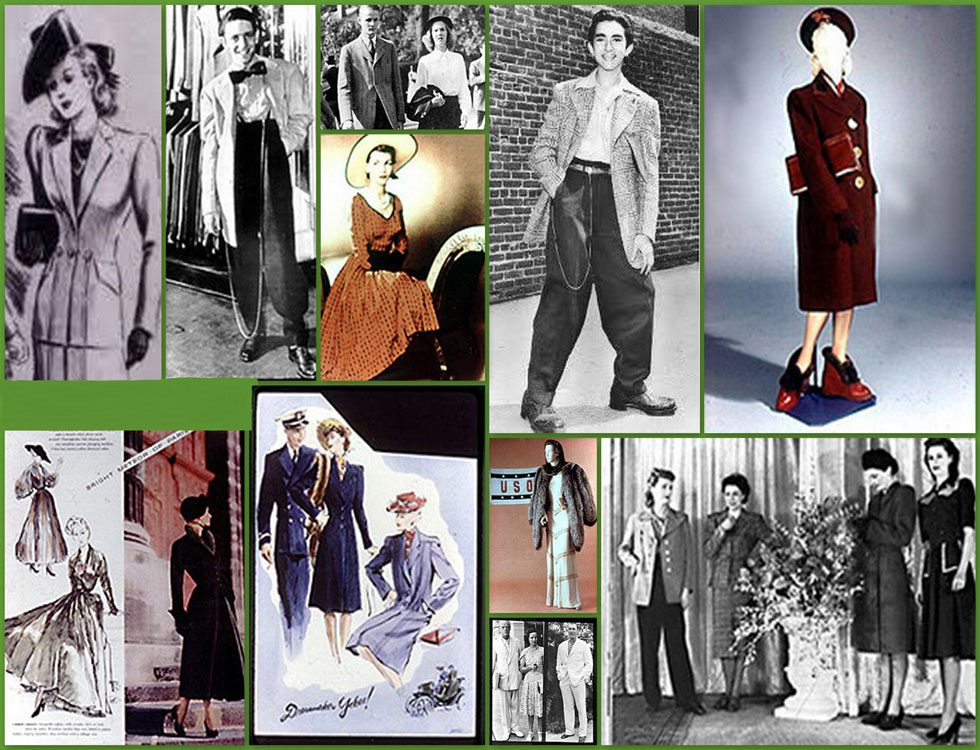 The 1940's were dominated by World War II. Since the war started, US were pulled out of the Great Depression. Women were needed to replace men who had gone off to war, and so the migration of women from the home to the workplace began. Limited resources affected the clothes they wore and the types of fashion available.
Women's Fashion:
Since the 1940's women had the tasted of freedom of working outside of their home, due to this the fashion attire of women transformed to formal suits – single breasted, padded shoulders, large buttons which were knee length.
Garments got a more "utility clothes" feel as they had to comply with the fabrics available after the war. During this time the chesterfield coat was derived – made with velvet collars and large plastic buttons and accessorized.
By 1947, Christian Dior helped change the style of women to tight waists, big circular skirts and fitted bodices and platter hats included. This was called the "NEW LOOK".
Men's Fashion:
During this decade, the men were back from the war and a new era of fashion was becoming! Casual Clothes for men – linen "palm beach" or "ice cream" suits in white, beige and pastels. The sports jackets were used more often by men for casual trips and during the day.
Also prevalent during this era was something called the "Big Band Era", during this time the Zoot suit made waves. This look was created with the High waist pants, suspenders, extra large bow tie and a watch chain from the pockets.
ACCESSORIES:
For the women, accessories used were scarves which covered their hair; bags became handle less "clutch" worn with "galoshes" boots. Since the war, everything was in short supply including stockings, due to this the women started wearing leg make up and socks with their saddle shoes and loafers. Platter hats were seen during the latter have of the decade for the 'new look'.
For the men on the other hand, they had a more casual approach to their attire. Worn with their zoot suits were watch chains and large bow ties with suspenders. Men usually were seen sporting the Windsor tie during this decade.