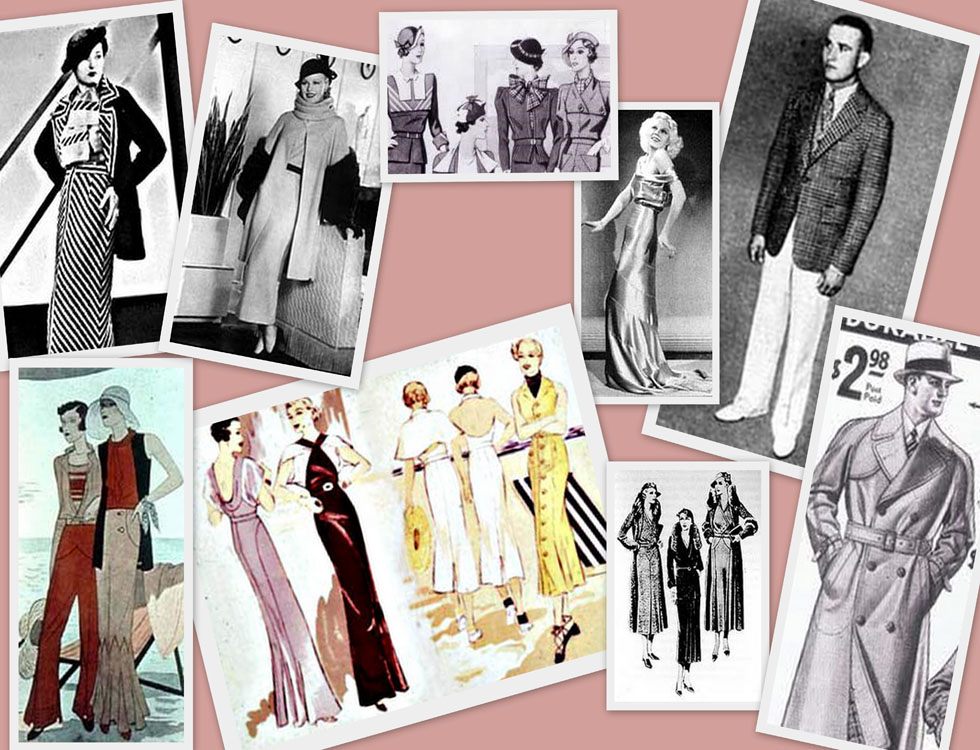 During the decade of the 1930's saw dramatic changes in fashion. Due to the great Wall Street Crash of October 24, 1929 many of the men were out of work in the United States. Since that the garment industry witnessed shrinking budgets, and going-out-of-business sales were prevalent.
The Edwardian tradition of successive clothing changes throughout the day finally died. Tailors responded to the change in consumer circumstances by offering more moderately priced styles.
Women's Fashion:
Women in the 1930s were more lady-like in appearance, with the waist and bust given more importance. They had softer hairstyles with prettier hair perms. Clothing was feminine, sweet and tidy by day with a return to real glamour at night. The bias cut was introduced, which made the halter and cowl necklines popular. These were used for the night dresses. This made the garment more flirty and sexy by night. Knit dress was introduced by Chanel. Dresses varied in length between mid-calf or longer, the flare was either narrow or moderate.
Skirts had become more popular during this time. The trend which was famous among the women was hemlines shorter in front than the back. Pants had also been introduced for women, worn flared at the hem and only used for casual wear. They were called beach pajamas.
Men's Fashion:
During the decade of the 1930's saw dramatic changes in men's fashion. Many were out of work due to the crash on 1929; due to this lesser amounts were spent on clothing. During the early part of the decade, the suits were modified to create the image of a large torso. Shoulders were squared using shoulder pads and sleeves were tapered to the wrist. Wide lapels framed the v-shaped chest and added additional breadth to the wide shoulders.
The double-breasted was popular with the use of dark fabrics, enhanced herringbone, spotted vertical and diagonal stripes. The striped suit became a standard element in a man's wardrobe at this time. Single, double, chalk, wide and narrow stripes were all in demand.
Slacks / sports jackets became popular and it was mixed and matched with trousers, this also helped during the depression, as it allowed them to have fewer garments but create an impression of many garments.
ACCESSORIES:
During the 1930's hat accessories were more plate shaped and smaller, showing the face of the women rather than the cloche. The women of the 1930 were more feminine and softer. The snood was introduced, to help keep hair away from the face. It was crocheted and patterns appeared in magazines making it easy for everyone to copy.
For men, the panama hats became popular. Tie bars were used to keep ties in place.