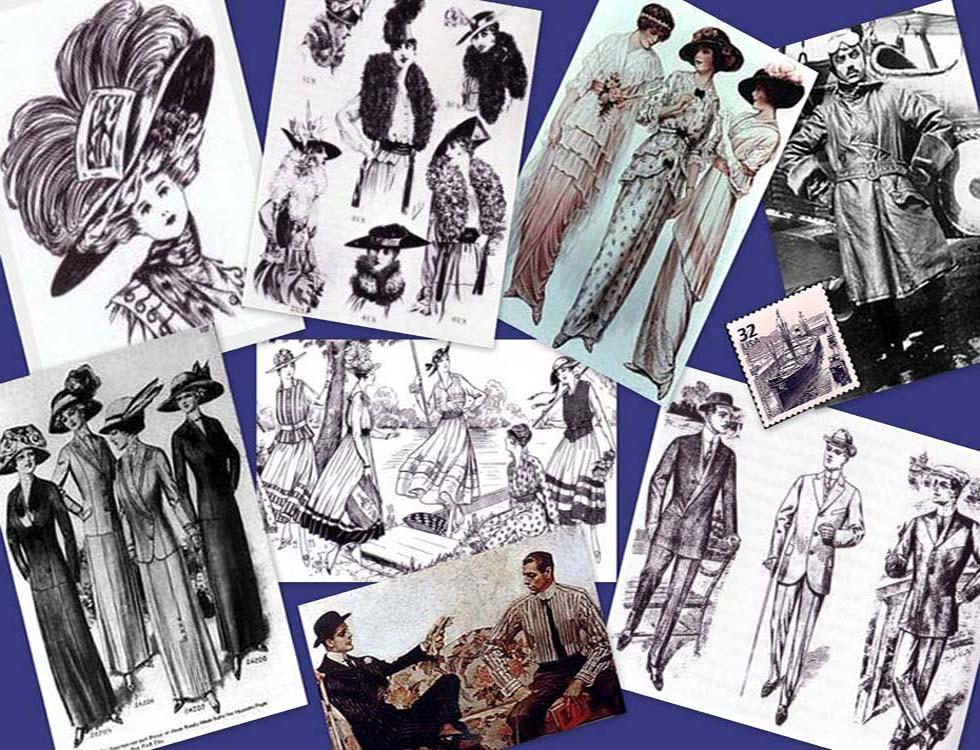 Women's fashion:

As we seen in the 1900's women had begun to wear more tailored garments inspired from men's wear, but in 1910's comfort clothing was more the forte – fashionable silhouette became much more lithe, fluid and soft. The "Hobble and Lampshade skirt" made a passing fad, necklines were lowered and furs became popular.
Ballets Russes performed Scheherezade in Paris in 1910, an oriental fashion craze ensured. Designer Paul Poiret created the initial outfit which women could put on without the help of a maid. Designs became innovative, more into asymmetrical draping for skirts and bodices (fabrics used for the same were satin, taffeta, chiffon and lightweight silks); lesser boning was used in bodices (for enhancing the body shape rather than changing it).
Due to World War I, women were required to work and that caused clothing to be more a necessity than fashionable. This created yet a further trend – skirts hemlines rose above the ankles. Bodices tended to lean towards the higher waist and skirts were full and tiered. Few other trends which were popular in 1910 were bat wing sleeves, over-drapes and flying panel skirts. Also suits became fashionable in fabrics like wool & linen; these were valued for their practicality.
Men's Fashion:
In the 1910's men's clothing was a leap into conservatism which consisted of single or double breasted "sack" which was a straight lined jacket, trousers and high collar with a bow tie. Shirts were striped, mostly detachable collars used. The conservative men wore long sack coats and long sleeves. Lapels were narrower and overstated chest with a modified shoulder width.
Inclusive of the conservative man there is also the fashionable man who wore snappier coats which were close fitting, a wider shoulder than natural and overstated chest. Fancy cuff and pockets were accepted.
During this period, the clothing function was transforming from a FASHIONABLE to FUNCTIONAL, This was due to the motor car coming in vogue. In this decade of World War I changed not only the fashion business but the entire world in various aspects.
ACCESSORIES:
Men usually carried a cane or umbrellas during this period, these cane handles were made from sterling silver. Many of the dandified men wore fancy cuffs with their suits.
Women head gear still prevailed but to a lesser degree of exaggeration, they were smaller brimmed and gradually became smaller and flat brimmed during the decade. Hair was also worn as a short bob in Paris and moved to England during the war.